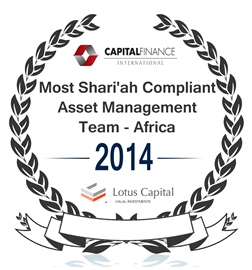 Lotus Capital: Most Shari'ah Compliant Asset Management Team, Africa, 2014
Lotus Capital, Nigeria, is a pioneering Shari'ah compliant asset management company that has performed admirably well since its establishment ten years ago. The CFI.co Judging Panel congratulates the management and staff on this recent anniversary and is delighted to confirm this award for the continent.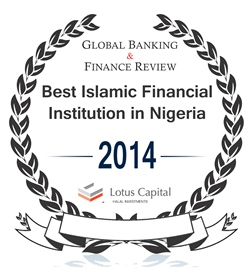 Lotus Capital, the pioneer Islamic Financial Institution in Nigeria focuses on Shari'ah compliant wealth and asset management and financial advisory services. Lotus consistently partners with regulatory authorities, operators and stakeholders in Nigeria and beyond to develop various initiatives in the Islamic finance sector and to promote financial inclusion and diversification of asset class and deepen the market in Nigeria
In 2013, Lotus Capital acted as the lead issuing house to the debut sovereign sukuk; the State of Osun N11.4bn Sukuk which was oversubscribed with uptake from both conventional and ethical investors.